---
ARTICLE OVERVIEW
The best tools for weight loss are apps that include food tracking apps, weekly or monthly weight changes, and a weight loss accountability chart.
A recent study found that there was no difference in body composition (i.e., fat loss) between a standardized diet and a personalized nutrition program tailored to an individual.
---
FITNESS TRACKERS. CALORIE BURNING. ACTIVITY TRACKERS AND THE ERA OF FITNESS APPS.
The Fitbit trackers/Fitbit weight loss calculator (i.e., Fitbit app/fitness tracker) was an early device worn on the wrist that measured calories burned and heart rate and served as a weight loss monthly tracker. Instead of using a weight loss diary, everything was electronically recorded and uploaded to your cell phone. The benefits of these modern-era tools for weight loss are that it stores daily and monthly weight changes, weight loss charts, body measurements charts, etc.
ARE WEIGHT LOSS APPS BETTER THAN A FOOD TRACKING APP?
The best tools for weight loss food tracking apps that include weekly or monthly weight changes, BMI calculators, and a weight loss accountability chart. Losing weight is highly variable among people following a similar diet. The weight loss community has struggled with a simple way to track food intake without measuring everything on a scale.
Some people will lose more or less weight despite following a diet with similar calories and macronutrients. New research suggests that the gut microbiome and glycemic responses may contribute to health-related outcomes.(1)
SHOULD YOUR WEIGHT LOSS PLAN INCLUDE A PERSONALIZED DIET?
When following a diet for fat loss, it is often recommended that the diet be personalized to that person. Preliminary research suggests a personalized diet that differs based on glycemic responses and gut microbiome may be superior for weight loss compared to a standardized weight loss. (2, 3) For example, a six-month personalized computer-based algorithm diet based food tracking app on glycemic responses resulted in superior glycemic responses than a standardized Mediterranean diet.(4)
Study Protocol
The groups' weight and body fat percentage loss were similar. Researchers wanted to do more research on personalized diets (i.e., Personalized to determine if a computer algorithm-based diet was superior for weight loss, metabolism, and fat loss compared to a standardized diet. The researchers hypothesized that the algorithm-based diet would result in superior weight loss compared to a standardized diet after six months.
A total of 269 adults aged 18 to 80 with a body mass index (calculated as weight in kilograms divided by height in meters squared) ranging from 27 to 50 and a hemoglobin A1c level ranging from 5.7% to 8.0% were recruited. Participants in both groups were encouraged to lose 7% of their body measurements from baseline weight (<25% of energy intake). Their calorie deficits were then determined.
Participants were randomized to either a low-fat diet (<25% of energy intake; standardized group) or a personalized diet that estimates glycemic responses to foods using a machine learning algorithm for daily calorie estimates (Personalized Nutrition Project. i.e., PNP).
The PNP app was pre-programmed with the weight loss goal (7% of body weight loss), caloric goal (deficit of 500 kcal/d), and physical activity goal (30 min/d). Participants received real-time feedback from the PNP app on calorie intake, macronutrient distribution, and feedback reports. The computer-driven app changed macronutrient intake based on anthropometrics, blood tests (e.g., hemoglobin A1c level), lifestyle features derived from questionnaires, and microbiome abundances.
Results
At the end of six months, weight loss was 9.15 pounds (-4.3%) for the standard diet groups and 6.9 pounds (-3.26%) for the personalized diet group. There was no difference in body composition (i.e., fat loss) or changes in adaptive thermogenesis between the groups. Fat loss was 5.45 pounds for the standard group versus 3.63 for the personalized diet group.
Lean mass loss was 2.86 pounds for the standardized diet group and 1.122 for the personalized diet group. The diet resulted in modest weight changes, which were not significantly different between the groups. The physical activity was not different between the groups either. Despite the PNP group eating a diet based on changes in blood glucose, the standardized diet group was more favorable regarding weight loss.(5)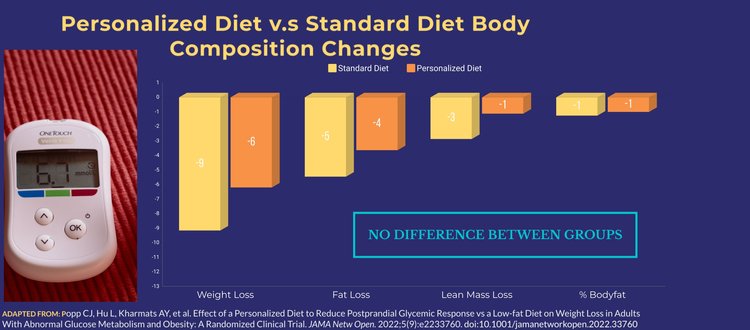 The study results are similar to other calorie restriction studies in which protein intake was similar, yet different fat/carbohydrate portions resulted in similar weight loss and fat loss.(6) This questions the growing trend of wearing portable blood glucose monitors to measure changes in blood glucose based on meal patterns. Previous studies have glycemic response is a poor indicator of changes in weight loss when protein and calories are similar.(7)
REFERENCES
1.         Mendes-Soares H, Raveh-Sadka T, Azulay S, Edens K, Ben-Shlomo Y, Cohen Y, et al. Assessment of a personalized approach to predicting postprandial glycemic responses to food among individuals without diabetes. JAMA network open. 2019;2(2):e188102-e.
2.         Berry SE, Valdes AM, Drew DA, Asnicar F, Mazidi M, Wolf J, et al. Human postprandial responses to food and potential for precision nutrition. Nature medicine. 2020;26(6):964-73.
3.         Zeevi D, Korem T, Zmora N, Israeli D, Rothschild D, Weinberger A, et al. Personalized nutrition by prediction of glycemic responses. Cell. 2015;163(5):1079-94.
4.         Ben-Yacov O, Godneva A, Rein M, Shilo S, Kolobkov D, Koren N, et al. Personalized Postprandial Glucose Response–Targeting Diet Versus Mediterranean Diet for Glycemic Control in Prediabetes. Diabetes care. 2021;44(9):1980-91.
5.         Popp CJ, Hu L, Kharmats AY, Curran M, Berube L, Wang C, et al. Effect of a Personalized Diet to Reduce Postprandial Glycemic Response vs a Low-fat Diet on Weight Loss in Adults With Abnormal Glucose Metabolism and Obesity: A Randomized Clinical Trial. JAMA Netw Open. 2022;5(9):e2233760.
6.         Gardner CD, Trepanowski JF, Del Gobbo LC, Hauser ME, Rigdon J, Ioannidis JPA, et al. Effect of Low-Fat vs Low-Carbohydrate Diet on 12-Month Weight Loss in Overweight Adults and the Association With Genotype Pattern or Insulin Secretion: The DIETFITS Randomized Clinical Trial. Jama. 2018;319(7):667-79.
7.         Sacks FM, Carey VJ, Anderson CA, Miller ER, 3rd, Copeland T, Charleston J, et al. Effects of high vs low glycemic index of dietary carbohydrate on cardiovascular disease risk factors and insulin sensitivity: the OmniCarb randomized clinical trial. Jama. 2014;312(23):2531-41.
About The Author